One third of a person's life is sleeping, and we must stay in the bedroom longer than this. For such an important space, we need to decorate it as warmly as possible and make it the best space for relaxing and enjoying ourselves.
In addition to the basic layout, the most important for the bedroom is the lighting atmosphere. Don't just use a cold light source ceiling lamp to illuminate the audience innocently. The night should look like a night.
Suggestions for bedroom lighting:
a. About ceiling lights
1. If your floor height is low, don't choose a chandelier. If you really like it, you can choose white or slender, with a weak sense of volume, so you won't feel depressed.
2. You can give up the main light, provided that your local lighting is in place. In this way, some people may ask, if there is no main light, we couldn't see the clothes in the closet. In fact, you can install a light in the closet, which is more convenient to use.
3. The top surface can be equipped with LED strip lights or downlights.
b. About bedside lights
The bedside does not have to use a desk lamp, you can use a floor lamp or wall lamp, so that your bedside table is freed, especially for small apartments, which saves space.
c. About local lights
In fact, you can be good at using table lamps, wall lamps and floor lamps.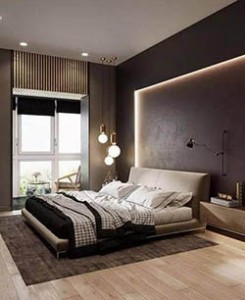 Here is a selection of several different bedroom lighting usages:
1. Bedside wall lamp*2+table lamp
2. Chandelier + bedside wall lamp*2
The relatively flat chandelier does not bring too much depression, and it can be used if the floor height is not very high.
3. Chandelier + bedside wall lamp + ceiling spotlight + table lamps on both sides of the bed
LED strip lights can simultaneously illuminate the wall lamp display and the bedside, and the two table lamps can make the people on both sides not affect each other.
---
Post time: Nov-12-2021